Your legal work experience questions answered
We caught up with the co-founder of Colemans-ctts and Future Legal Mind judging panel member Janet Tilley to ask her advice for any students hoping to snare an elusive work experience placement at a law firm.
Leaning on over 30 years of experience, Janet's advice will help you stand out from the rest and get the sort of work experience that will help you succeed in this increasingly competitive field.
Introducing Janet Tilley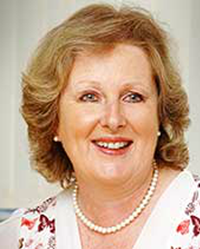 ---
If I were a final year law student, how could I make my application stand out from the others?
The applicants that stand out for me are those who are persistent, particularly those who approach us more than once. Picking up the telephone instantly gives an application some extra depth. Even if an applicant phones me directly as a partner then they're setting themselves apart from all the other candidates.
That may sound rather odd but it means that person had the gumption to telephone and to make themselves known. As there's very little that differentiates one final year student from another on paper, it's important to somehow find a way to say something that's different.
Previous work experience is also very valuable and another way that applicants can differentiate themselves. It doesn't matter how the work experience was obtained, or whether it was for a short period of time, it shows they're committed to doing it.
---
Should I apply to lots of firms, or just a select few?
I don't think it matters how many you apply to.
The worst possible approach is to draft a standard letter and then just change the name of the firm with each application. That to me doesn't show any commitment to an individual firm in any way. You can apply to lots of firms, but I would certainly recommend that if you're going to do that, you do your homework. Find out what each firm offers, what kind of work they do, what's important to them, what their values are and then use your letter to demonstrate your understanding of the firm's culture and aims.
---
How can candidates stand out and also, then, how can companies make sure that they create a level playing field for people who might not be well connected?
Firms that only take on people who are well connected are taking them on because they know someone, not because of their ability. This makes it highly likely that those firms are missing some of the best candidates.
To try and make sure that doesn't happen at Colemans-ctts, we have a process in place whereby HR are responsible for all subsequent communication post submission with applicants. We interview all of our work experience candidates as well. This means it's an independent process, as far as we can make it independent. This does not of course stop any candidate from using their initiative to get noticed.
---
What should work experience students not do once they've arrived in the workplace?
What is always surprising is applicants who simply sit and watch the clock during a work experience placement. This is a real opportunity to learn, make connections and take steps towards a sought after career so it makes no sense to waste it waiting for the end of the day.
If you want to get on in law, you have to realise it's not easy. It's a very competitive field and expectations are high from the start - even on a work experience placement. The only way to differentiate yourself is to stand out, and if you want to stand out, you're going to have to go that extra mile. That means no clock watching.
If you want to get on in law, you have to realise it's not easy. It's a very competitive field and expectations are high from the start - even on a work experience placement. The only way to differentiate yourself is to stand out, and if you want to stand out, you're going to have to go that extra mile. That means no clock watching.
There are a lot of people who say, 'all I need is my travel expenses, I just want the work experience'. This actually shows that they're prepared to go a lot further than many to get that experience. Enthusiasm and a sense of commitment go a long way in this job - we need to know the people we take on are prepared to do the hours and throw themselves into the work. You won't demonstrate that by staring at the clock waiting for the end of the day.
---
What would your top three tips be for work experience candidates?
It's exactly the same tip I would give to someone applying for a training contract: as I said, it's all about standing out.
We have one partner who sits on the board for trainees and he always takes in copies of the Law Society Gazette to an interview, spreads them across the table and says 'tell me about what's happening in the legal world.' It is surprising how many people at the stage of applying for a training contract do not have a clue about the nature of the changes that are taking place in the legal market.
Most importantly, candidates should do their research on the firm itself, using the firm's website. It's important to understand what the firm is about and to be able to demonstrate this. So for my firm applicants should know we are predominantly focused on personal injury and conveyancing - it would be advisable to have a good grasp of the changes we're facing so they understand a little of our world.
The other valuable asset that we're looking for in applicants is that they have a commercial approach. For example, we have applicants who say they 'love the law', and when you ask them why, they say it's because they love case law. The impression you get is that they're going to sit there all day and study one case. That isn't going to make a future lawyer. We're looking for people who have that potential to be a future lawyer and that does mean the potential to take a commercial approach.
---
Do you have any work experience horror stories that you can share? Anybody who's shown up and done something really dreadful?
No particularly awful horror stories.
But we have had a few people who come in, decide after about an hour or so that they don't like it, sit and read the paper and don't come back in after lunch.
---
So, any final advice for someone applying for work experience?
For most candidates who actually get to the firm to start work experience, the motivation is usually because they want a future in law. That means that the firm where you're doing the work experience is a possible future employer, not just an entry on your CV. Remember that and take every opportunity to start making a good, memorable impression now.
Finally, if you're going to do work experience, don't be shy. Make yourself known to all the partners - they're only people! This is a great opportunity to make some connections right across the firm. Be visible. And smile!