About The Paul Bush Foundation Trust
In 2016, NAHL Group partnered with the Paul Bush Foundation Trust as its chosen charity. The Trust aims to support those who have an acquired disability so that they can enjoy a better quality of life and regain some of their independence.
The Trust was set up in 2011 by Paul Bush, who himself has been a paraplegic since 1975 when he sustained a serious spinal cord injury, along with his daughter Rachel who is a specialist spinal injury nurse.
How the trust helps those affected by disabilities
The Trust helps those with an acquired disability due to an accident or injury, to improve their physical, psychological and emotional well-being by giving grants of between £500 and £5000.
There are many examples of how this money can make a huge difference in the lives of those with physical disabilities. They can be used to buy specialist equipment which may not have already been provided by social services. It can fund accommodation which fits the needs of the individual or could be put towards paying for holidays and the special support which is needed to make this possible.
The Trust also makes donations to registered charitable organisations that support those living with acquired disabilities as a result of an accident or birth injury. By making this type of donations the Trust helps support the provision of services to those who have been severely injured and are seeking emotional, physical and financial support from other disability-focused organisations.
Since it was set up, the Paul Bush Foundation Trust has donated nearly £200,000 to individuals and charitable organisations.
We are proud to support NAHL's partnership with the Trust, which is so dedicated to helping people to get their lives back on track after suffering a life changing serious injury or medical problem.
---
Changing Lives
Throughout it's history, The Paul Bush Foundation Trust has helped countless individuals regain a sense of independence and restore their quality of life. The following story is an example of just one of the lives that The Paul Bush Foundation Trust has helped to improve.
The Paul Bush Foundation funded a wheelchair for me that has changed my life massively following a car accident in 2012 which left me paralysed.

Before my accident I would often walk my dogs over rough terrain, something which became impossible for me to do. With the all-terrain wheelchair I can now go to the places I used to. It's taken some getting used to, with occasions where I have been stuck in the mud and two local farmers had to lift me out but I'm just so glad I can be outdoors.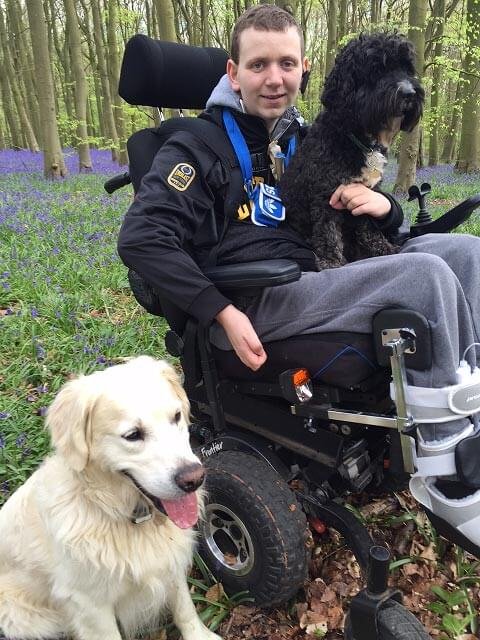 Since my accident I've done many speeches in schools and for local organisations to hopefully inspire people.
---
Our work with other charities
Paul Bush and his daughter are passionate about improving the lives of those with a disability, and this passion for helping others is something which is also central to our values at National Accident Helpline.
We are committed to offering more than just a claims service. First and foremost, we want to help people, which is why we regularly get involved with charities to help to make a difference in people's lives.
In 2015 we partnered with a national charity called Revitalise to launch The British Caregiver Award. Revitalise specialises in providing holidays for disabled people and their carers at dedicated centres in the UK.
We gave a number of recognition prizes to carers of people who unexpectedly required long-term care as a result of a personal injury or accident. We did this in order to raise awareness of these inspiring people and their commitment, but also of the effect that caring has on their lives.
As part of our partnership, we funded a week's holiday for one carer and the person they look after at one of the centres set up and run by Revitalise.
At National Accident Helpline, we also worked together to raise over £12,500 for the Air Ambulance Service. All of our employees got involved in some way to raise money. Fund raising activities included dragon boat racing, endurance events as well as baking competitions and quiz nights.
---
Giving Something Back
Giving something back is important to our employees and they have always been enthusiastic about volunteering and raising money for charity.
In 2015, the National Accident Helpline launched a scheme for all employees to take time away from their day job to volunteer within their local communities. Employees can get involved in a range of projects from volunteering with the elderly, cleaning up the local community or reading with children.
Visit our Helping Hands Campaign page to find out more information or to submit a proposal for help with your community project.
---