05 Feb, 2020/ by Bernie Pegg/News
We are proud to offer apprenticeship opportunities and we have been celebrating this throughout National Apprenticeship Week 2020 (3rd - 9th February).
As part of the week, we took part in various events, including the #AskAnApprentice Twitter chat organised by the National Apprenticeship Service.
The event took place on Wednesday 5th February to give people a chance to ask current apprentices all over the country questions about their apprenticeships.
Chloe Kington, Junior Business Analyst, and Emma Walker, who is a Paralegal apprentice at National Accident Law, took part in the chat - below are some of their answers to the questions asked.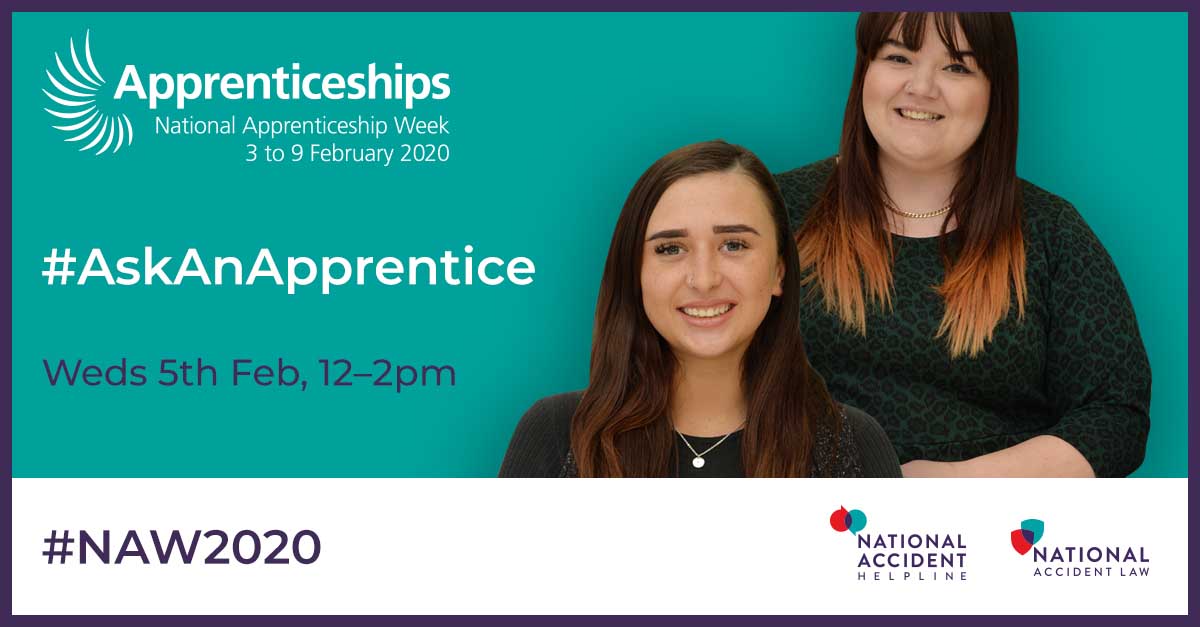 Rebecca Craven (@BeckySee123) - see tweet
Question: I'm a tutor for apprentices in Yorkshire. I'd love to hear what makes the best tutor - what qualities do we need? Have you got an amazing tutor or trainer - why?
Chloe and Emma's answer: Our tutor @CILExLawSchool is so engaging, approachable, motivating, and passionate to ensure that we succeed. One thing she does which we find really useful is sending catch-up emails regularly.

She'll ask how we're doing, which helps us to keep on track. She also sets us personal goals to work towards, which are often around reflective working or teamwork. They're related to personal development and not just the apprenticeship.
The Auckland Project (@aucklandproject) - see tweet
Question: Why did you decide to become an apprentice?
Emma's answer: I wanted to show my little girl that you should never give up on your aspirations or learning! I have now learnt new skills and it's given me a clear career path.
Canal & River Trust (@CanalRiverTrust) - see tweet
Question: Hi I'm Harry, an apprentice here at Canal & River Trust, my question is, do you think apprenticeships are the foundations for building better opportunities for the future?
Emma's answer: Hi Harry. Absolutely! Whoever you are, even if you are not a school leaver, you are never too old to want a change in aspirations, apprenticeships can open many doors of opportunity! You just need the curiosity to learn.
UoM Apprenticeships (@ApprenticeshipsUoM) - see tweet
Question: What kind of support do you get as an apprentice?
Chloe and Emma's answer: You get so much support from your employer and tutor. With your tutor, it's a mix of one to one tuition, Skype meetings and she's always an email or call away if we need her. Remember to ask if you're ever unsure.

Our employers have done a webinar with our provider to help advise them on how they can best support us along the way. There's lots of people in the business who spend time with us to help guide us in our work and there's always someone to help if we need them.
CNTW Apprenticeships (@CNTWapprentices) - see tweet
Question: What's the best bit of advice you've been given on your apprenticeship?
Emma's answer: Record everything! There is so much you do in your normal day to day work which you can use towards your apprenticeship. Just be sure to make a note of it as you go along!
To see more of the Twitter chat, search #AskAnApprentice on Twitter. To find out more about careers with us, visit our Careers page.