Helping you make a pedestrian accident claim
We understand that being involved in a road accident as a pedestrian can come as a real shock - you're walking down the street when all of a sudden an accident happens, which can leave you both injured and struggling.
Road traffic accidents involving pedestrians can be both very serious and traumatic. As some of the least protected road users, pedestrians are classed as being 'vulnerable road users', alongside cyclists and motorcyclists.
What is a pedestrian accident?
A pedestrian accident is a road traffic accident which involves a person on foot and a vehicle. We know that if you've suffered a pedestrian accident, it's likely you've been left dependent on those around you, and you may be worried about your recovery.
It's also common to feel pressure to get back to work as soon as possible to reduce lost earnings.
Whilst we can't take away the pain and suffering you've had to endure, we can help you claim compensation to get justice for your accident and to take away some of the financial pressure.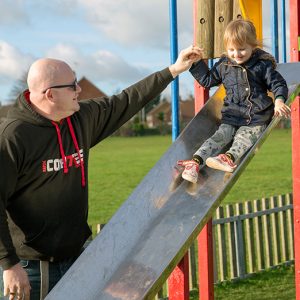 We helped Martin after he was hit by a car on the school run
"The car struck my leg and tore two of the ligaments in my knee. I was out of action for weeks. Financially, it was an absolute struggle and I couldn't drive, walk to the shops or play with the kids."
Martin
If you've been injured in a pedestrian car accident like Martin, we're here to help. The first step to making a compensation claim is finding out whether you have a claim. All you need to do is contact us for free on , or fill in our simple online form to arrange a call back.
When you speak to us, our legally trained advisors will ask you some questions about your experience so they can get a clearer idea of what happened. They'll then be able to let you know whether they think you can make a pedestrian car accident or hit and run accident claim.
If you give your permission, we can then pass you on to a specialist solicitor who can answer any remaining questions and guide you through the next steps.
Can I make a pedestrian car accident claim?
The easiest way to find out if you can make a claim for your pedestrian accident is to call us for free on .
All calls with us are advisory and completely confidential, which means you'll never be pressured into making a claim. We simply want to give you the advice you want and need about claiming compensation.
We know you might not feel ready to talk about your accident yet. As a guideline, we generally advise that you could have a case if your accident:
Happened in the last three years
Was caused by somebody else either by accident or due to negligence
Caused you an injury
---
What are the main causes of pedestrian accidents?
What are the main causes of pedestrian accidents?
There are various factors which can be cited as causes for a pedestrian car accident.
In road traffic accidents involving pedestrians, sometimes the driver of a vehicle is to blame, sometimes the pedestrian is at fault, and sometimes, both parties are at fault.
Remember that if your accident was not your fault, or partially not your fault, then we may be able to help you to make a claim.
Examples of situations where a driver may be to blame for a pedestrian accident include:
Driving too fast
Driving without paying attention
Driving while intoxicated, either through alcohol or drugs
The Department for Transport's report on pedestrian casualties gives several examples of situations where a pedestrian may be at fault for a pedestrian accident. These include:
Failing to look properly
Acting carelessly, recklessly or being in a hurry
Crossing the road masked by a stationary or parked vehicle
Wearing dark clothing at night
---
Can I make a claim for a pedestrian accident involving a child?
Can I make a claim for a pedestrian accident involving a child?
If your child has been injured in a pedestrian accident, we appreciate how difficult it must be to see them in pain or traumatised by their experience.
Just because your child is under 18 doesn't mean they can't receive compensation; we can help you to make a claim on their behalf.
We know how much of an impact a road traffic accident can have on a child's life and future, and the compensation you could receive may help to ensure they can get the ongoing help and support they need.
As a parent or guardian, it's likely you needed to take time off work to look after your child, so although the priority is to get your child the compensation they need, it's likely you can also receive compensation to help to cover the financial impact on your own life.
---
Did you know?
During 2016 there were a total of 23,550 casualties involving pedestrians in the UK - a quarter of whom were aged under 16.
Source: Department for Transport figures, IAM RoadSmart

How much compensation can I claim for a pedestrian car accident?
How much compensation can I claim for a pedestrian car accident?
The amount of pedestrian car accident compensation you receive is negotiated between your solicitor and the party who is responsible for your accident - in the case of a pedestrian car accident, this could be a driver of a car which hit you.
When your solicitor negotiates your compensation, they work to make sure the expenses and impacts of your accident are covered so you can start to get things back to how they were.
For example, if you've had to pay for everyday expenses such as travel, or have lost wages because of time off work, then you'll be compensated for this. The money you receive will also help to cover the impact on your social life and hobbies as well as the future effects of your injuries.
Because all accidents and their effects are different, it isn't possible to let you know exactly how much compensation you could receive until negotiations between your solicitor and the responsible party are underway.
But we do understand how important it is for you to have an idea of how much you could be able to claim. This is why we created our industry-leading compensation calculator, which can give you a guideline figure of how much your claim may be worth.

---
How much compensation will I receive for my personal injury claim?
There are several factors which are taken into consideration when reaching your settlement amount.
What to do after a pedestrian car accident
If you're involved in a car accident as a pedestrian, we understand that the experience can leave you injured and in shock. There are steps which you can take at the scene to ensure your own safety and to gather information which can help when putting together a claim.
Firstly, if you are able to move, put yourself out of further danger by moving out of the road.
Call the police and ambulance service to report the accident and to seek treatment for any injuries you have suffered.
Exchange details with the driver/s involved in the crash - ask for their name, telephone number, driving licence details and which insurer they are with.
Take down the details of the vehicle/s involved in the crash - record the make and model of the vehicles and their registrations.
Take photographs of the scene of the accident - including any damage to any vehicles involved.
If anyone witnessed the crash - for example, other pedestrians or drivers who have stopped at the scene - take down their names and phone numbers. They may be able to act as witnesses.
---
Find out how National Accident Helpline can help
With over years_since years' experience in pedestrian accident claims and hit and run compensation claims - plus a network of specialist personal injury solicitors - we can let you know whether you have a claim and can help you understand what the claims process involves.
As the UK's most trusted and recommended personal injury specialists, we understand what you are going through and our team has the empathy and expertise to help. We know that an accident can leave you not only physically struggling, but can impact other parts of your life - from your finances to your mental health - and we want to help you make it right.

---
How we approach sensitive calls
Our Legal Support Advisors are empathetic, friendly and will always give you time to tell us what happened to you at your own pace.
We've helped thousands of people to make pedestrian accident claims since we were founded in 1993. In fact, in our years_since year history, we've spoken to more than two million people about their accidents. You can hear more about some of their experiences of making a claim on our customer stories page.
For confidential, no obligation advice on making a pedestrian accident claim or hit and run accident claim, contact us for free on or fill in the form below to request a call back.