Scaffolding accident claims
It's easy to think of a scaffolding accident as an occupational hazard when your job involves working high up on temporary structures, but this simply isn't true. You deserve the security of knowing that you're safe while you work and the fact remains: many scaffolding accidents are avoidable.
Although working on scaffolding may have dangers, your employer is responsible for making your working environment as safe as possible. The very reason scaffolding exists is to ensure you can make repairs or modifications to a building safely, and with relative ease.
If your accident happened while you were employed to work on scaffolding, or in construction, for example, then we may be able to help you make a no win no fee scaffolding injuries claim. Contact us for free on and find out if you have a compensation claim today.
We've helped thousands of people just like you start a no win no fee claim for an accident at work. Here's what a few of those people had to say about us.
Paul Scott had to visit A&E after his accident
I won around £2,500 which helped with my loss of earnings, but the most important thing to me was making sure the company improved their procedures
More customer stories
Scaffolding accidents outside the workplace
Not all accidents involving scaffolding happen to people who are at work. Sometimes innocent bystanders, residents or pedestrians can be affected by falling debris, collapsing structures and all manner of mishaps.
If you've suffered an injury as a member of the public because of a scaffolding accident, then you may be able to claim compensation from the company responsible for the scaffolding.
Of course, being injured by faulty scaffolding or because equipment has been used irresponsibly can be a very traumatic experience that can impact not just on your physical health but also impact your state of mind. Using our years_since years' experience we can help you make a no win no fee claim for the compensation that will help you on your road to recovery.
Contact us today on to tell us about your experience. We'll advise you where we can, and let you know if we think you're eligible for compensation.
---
Can you claim for a scaffolding accident if you didn't fall?
Can you claim for a scaffolding accident if you didn't fall?
There are plenty of misconceptions about what constitutes a scaffolding accident and whether you have to fall from a height or not. The answer is, if your accident was the result of somebody else's negligence, then you can claim compensation, regardless of how far you fell. Scaffolding injuries can still be caused by falling on the same level or onto a lower level of the structure.
In fact, the NASC reported that in 2020, slips, trips and falls were the most common injury type for scaffolding workers and site staff for the 15th year running.
If your employer has failed to keep your working environment safe, or has demanded you work in unsuitable weather conditions, such as rain, snow or high winds, and this has led to your injury, then we may be able to help you claim.
Contact us today on to discuss your accident. You're under no obligation to claim, but we can chat about your experience, and give as much advice as we can.
---
Types of scaffolding accidents
If you've experienced any of the types of scaffolding accident listed below, then it's likely your employer has failed to keep you or the public safe. However, as accidents are often complicated, we recommend giving us a call for free on to find out whether you could make a claim.
Scaffolding collapse
Collapses can lead to some of the most serious injuries for those working on or around the structure, and even to nearby members of the public.
There are a number of reasons that scaffolding can collapse, but each of the below is avoidable:
Failure to erect or attach scaffolding correctly.

The overloading of weight on scaffolding structures.

Defective scaffolding equipment, such as standards, ledgers, transforms or planking.
Falling from height
Falls from a height are a common scaffolding injury type for workers or site operatives, but they still make up a significant proportion of accidents and can have tragic consequences.
A scaffolding fall is often the result of poor fall protection, such as missing handrails, faulty transport to the top of the building and overlooked safety measures.
Whatever the cause of your fall, if it was not your fault, and you've suffered an injury as a result, then we can help you get back on your feet.
Slips, trips or falls on scaffolding
Slips, trips and falls were the most common injury in 2019 for scaffolding workers.
The risk of losing your footing increases hugely if the following factors are present:
Poor weather conditions that you are forced or pressured into working through

Raised, uneven or badly laid flooring

Scaffolding or construction materials left in walkways and thoroughfares
Naturally, falling in such an unforgiving environment can result in serious injuries, such as broken bones, and sometimes they can even lead to other types of scaffolding accident, like falling off scaffolding onto the ground below. If you've suffered a slip or trip while working on scaffolding under any of the above conditions, we can likely help.
Your employer is responsible for making all aspects of your working environment as safe as possible, and should be held accountable for their negligence.
Lack of safety training and equipment
Your employer is responsible for making sure you are correctly trained to do your job in a safe way. Of course, there are some careers where this is more important than others and construction is high on that list.
The Government requires your employer to ensure that no person engages in any work activity at height unless they are competent to do so, under The Work at Height Regulations 2005 Act.
Sadly there are some employers out there who don't value the importance of training, and either only cover the bare bones, or sometimes skip over it altogether - instantly increasing the risk of accidents across the entire workforce.
If the training you've received for working on scaffolding has been poor, insufficient or non-existent, and you've suffered an accident as a result, then you may be able to claim compensation.
Your compensation could help with the financial impact your injury may have had on your life, contributing to a speedier recovery or covering the expenses of daily life while you're unable to work.
Your employer is also responsible for making sure you have the correct safety equipment to do your job, also known as personal protective equipment (PPE). Asking people to work without a helmet, a harness or other PPE is a clear disregard of health and safety measures in construction and any resulting injuries should be compensated.
If your employer has failed to provide the right safety equipment or training for your role, and you've suffered an injury, then you may be able to claim.
---
What is the law on accidents at work?
If you've had an accident at work then, aside from it being a painful and unpleasant experience, you may have significantly lost out financially.
What sort of scaffolding injuries can be caused?
What sort of scaffolding injuries can be caused?
The majority of scaffolding injuries are caused by structures falling and collapsing or a trip on the same level. Typically that often means impact injuries like bone breaks and fractures and head trauma to the skull and brain. Crush-type injuries can be caused in a scaffolding collapse involving damage to internal organs, soft tissues and nerves, along with laceration, bleeding, shock and infection of open wounds.
Consequently, scaffolding injuries are a mix of minor and major - even with trips on the same level. In the worst cases, they can be life-changing or fatal.
---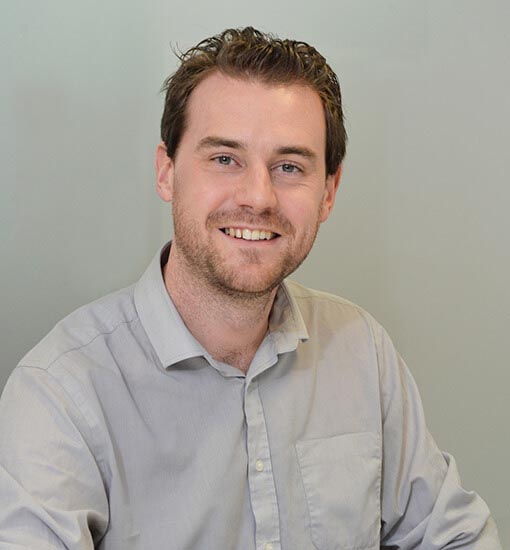 Meet Jacob Underwood - he's a Senior Litigator at National Accident Law, our very own legal firm.
Jacob is one of our senior litigators. When the other side disputes liability, he investigates the claim in detail to establish a firm legal case on the customer's behalf. A great listener, Jacob has a terrific eye for those details that really count.
Recovering from your scaffolding injury
When you claim with us, your solicitor will invite you for a medical assessment with an approved medical professional.
Assessments are helpful. They give you the opportunity to find out how your injury has affected you, and how long your recovery will be. From our perspective, a doctor's analysis of your injuries can help your solicitor make a success of your claim.
We also work with expert physiotherapists. If we think you'd benefit from seeing one, we'll put you in touch for free to help you get fit and healthy again. The costs will be covered as part of your claim, as we believe you shouldn't be paying a penny towards your own recovery, especially when it's not your fault.
---
Will my claim affect my employer?
Will my claim affect my employer?
One of the biggest causes for anxiety when thinking about claiming compensation from an employer is that it will impact them, or your career, negatively.
By law your employer is required to have insurance. This insurance covers them financially when accidents happen in their workplace. This means there is no direct financial impact on your employer, as their insurance company covers the costs of any claim. The money won't be coming directly from their pocket, so you don't have to worry about negatively impacting the business.
In most cases, claiming can have a really positive impact on your employer's working environment. Highlighting a workplace hazard by making a claim can inspire an employer to change ill-advised working practices or implement new safety procedures to make their workplace safer for other employees. In effect, you could be preventing countless future accidents by helping to spark change.
You can find out more about making a claim against your employer here, including who pays for your compensation and how this will affect your job.
---
What are my employer's responsibilities for preventing a scaffolding accident at work?
What are my employer's responsibilities for preventing a scaffolding accident at work?
The Health and Safety at Work etc Act 1974 states that employers have a duty of care to keep you safe while working. It applies to full and part-time employees, temporary workers, agency or self-employed sub-contractors and also those working on zero hours contracts.
If your employer fails in this duty and you are injured in a scaffolding accident, you will likely have the right to make a no win no fee accident at work compensation claim.
An employer duties include:
Proper job and safety training and informing you about any risks to your health and safety from current or future ways of working.

Advising how

scaffolding accident

risks are controlled and who is responsible for controlling them.

Working with the health and safety reps in your organisation to protect employees.

Issuing you with the correct personal protective equipment (PPE) where necessary and ensuring it is looked after correctly. These include items such as clothing, shoes, boots, head, eye and ear protection, gloves and masks.

Carrying out regular inspections and maintenance of scaffolding equipment.

Making sure all necessary warning signs are clearly visible.

Maintaining an official accident report book.
---
What are my rights at work?
What are my rights at work?
Health and Safety law says you have the right to:
Work in an environment where any risks to your health and safety are controlled responsibly.

Cease working and clear the immediate area if you think you or your colleagues may be at risk of injury.

Be consulted by your employer on health and safety matters.

Report any health and safety issues to your employer.

Contact the Health and Safety Executive (HSE) or your local council without fear of intimidation.

Join a trade union and be a safety representative.

Get paid time off work for training as a safety representative.

Rest periods of at least 20 minutes if you work more than six hours without a break.

Appropriate on-site first-aid facilities and trained first aiders.
---
Frequently asked questions...
No. National Accident Helpline is a brand that belongs to the personal injury legal practice National Accident Law. We're regulated by the Solicitors Regulation Authority (SRA), the independent professional ethics body that licenses all solicitors in England and Wales. Our SRA number is 655606.
Claims management companies (CMCs) are regulated by the Financial Conduct Authority (FCA). CMCs do not have their own legal practices.
We process personal injury claims as part of National Accident Law. We also work with a national network of specialist personal injury legal firms who we vet very carefully to provide you with the best possible customer experience.
With us, you're in safe and highly-capable hands.
Proving liability in a claim is about establishing blame in four key areas.
Duty: did the party you hold responsible for your injury owe you a legal duty of care?
Breach: did they breach that duty by acting (or failing to act) in a particular way?
Causation: did their actions (or absence of them) cause your injuries?
Damages: were you injured by their actions or inactions?
What should I do after a scaffolding accident at work?
What should I do after a scaffolding accident at work?
Clearly, the first thing you should do if you've had a scaffolding accident at work is get immediate first aid help. If you've been badly injured, lose consciousness or cannot move, those around you will be able to assist in the first instance.
Call or ask a colleague to find a designated first aider and first aid kit. All workplaces in the UK must have both on-site.

Stay still if it's safe to do so. The first aider or a colleague will look after you, including calling for an ambulance if needed.

If in doubt, always get to your local hospital A&E and make sure a colleague goes with you.

Even a minor

scaffolding accident

injury can involve complications or longer-term effects. See your GP and get checked out.
Before you think about making a scaffolding accident at work claim, focus on your recovery. When you feel ready and think you may be eligible to make a claim, call us on for a confidential chat with one of our professional, friendly and legally-trained advisors.
---
What steps do I take after I've been treated for scaffolding injuries?
What steps do I take after I've been treated for scaffolding injuries?
After you've been treated, either by the first aider or in hospital, make sure you or a colleague you trust can take care of the following actions.
Talk to your co-workers about the scaffolding accident: they could be key witnesses that make sure an employer cannot dispute that the accident occurred. It'll also help your colleagues avoid getting hurt in the same way.
Report scaffolding injuries to your manager: this makes the accident official and means your employer's must take action and log what happened in the company's accident book. Many work injuries must also be reported to the Health and Safety Executive for formal investigation.
Take photographs and video of your injuries: they will form a very useful part of your scaffolding accident evidence. Keep a diary recording your symptoms and how you are recovering. Also keep a log of any lost income or financial expenses you incur as a result of your accident at work. This will help protect your accident at work pay rights.
Doing these things will make it easier for your solicitor to build a strong case for scaffolding accident compensation if you choose to proceed.
Ask a colleague to help you: if you're off-work recovering, they can keep you updated with any news. They can also help make sure that your accident at work is recorded properly so that your injury at work rights aren't infringed. Speak to your union rep if you're a member. They can give you a lot of support too.
Don't let your scaffolding accident injury rights get swept under the carpet: if your employer isn't handling your scaffolding accident correctly, you can submit a formal grievance which will compel them to recognise the incident.
If your employer doesn't follow the injury at work rules, you can also submit a Data Subject Access Request - called a DSAR for short. A DSAR submitted under current UK data protection laws means they must give you a copy of all the information they hold about you.
If you think you may have grounds to make a compensation claim for scaffolding accident injuries, then we can help. Call us on for a confidential chat.
---
Will I lose my job if I make a scaffolding accident compensation claim?
Will I lose my job if I make a scaffolding accident compensation claim?
The firm answer is 'no' - the law is on your side if you've suffered any type of scaffolding injuries caused by employer or contractor negligence. They cannot dismiss, discipline or in any way make your life tricky at work if you start a scaffolding fall compensation claim for injury. If they do, they are in breach of UK employment law.
If your employer tries to sack you for making - or considering making - a compensation claim, you may have a case for

unfair dismissal

.

If they make your life at work so difficult you quit your job, you may have a case for

constructive dismissal

.
It's clear to us that you may be concerned about making a claim against the company that employs you. We're a trusted national helpline with over years_since years' experience helping people win the compensation they deserve.
We'll give you the free, impartial and confidential advice you need to think about a personal injury at work claim. In your own time and in your own way. No rush. No pressure.
If you then decide to start a scaffolding accident injury compensation claim, we'll guide you through those initial first steps. We'll then connect you with one of our specialist solicitors. Calls to us are free: contact us now on to find out more.
---
Scaffolding accident injuries: how is compensation calculated?
Scaffolding accident injuries: how is compensation calculated?
If your scaffolding accident was caused by your employer's negligence, then your legal rights mean you'll likely be able to make a compensation claim for the scaffolding injuries you suffered. You typically have up to three years to make a claim from the date of your accident at work. There are some special exceptions to the three-year rule, depending on the circumstances of your accident.
Compensation is made up of several categories of loss. The amount you receive in a successful claim - and how long it takes - depends on your scaffolding injuries, its severity, your recovery time and the overall effect on your life. When you make a claim with us, your solicitor will consider the full impact of what you have suffered. It's important you're properly compensated and that your employee rights after a scaffolding accident are protected.
There are two main areas of scaffolding accident compensation your solicitor will include:
General damages
This is the compensation for pain, suffering and 'loss of amenity'. Loss of amenity means the things you normally do but no longer can because of the scaffolding accident you've suffered.
Special damages
These are the financial losses you may have suffered as a result of your scaffolding accident at work. They include:
Time off work and any lost income.

Future loss of earnings or opportunity to earn.

Changes to your ability to work.




Any care or support you've needed, even if given free by family and friends.

Any changes you might have needed to make to you your home or car.

Paid medical treatments, travel to treatment and any related accommodation costs.
You won't have an accurate idea of the potential settlement amount until your solicitor has started negotiating with your employer's insurers.
However, the Judicial College (part of the Ministry of Justice) publishes the guidelines for the pain and suffering component of compensation for injuries caused by someone else's negligence. Here are some examples of scaffolding accident injuries and the compensation they attract.
| | |
| --- | --- |
| Types of scaffolding accident injuries | Range of compensation |
| Wrist injury from fracture or soft tissue injury with complete recovery | Up to £9,620 |
| Minor head or brain injury | £2,070 to £11,980 |
| Significant hip or pelvis injury leaving some long-term problem | £11,820 to £24,950 |
| Severe, disabling elbow injury | £36,770 to £51,460 |
| Severe back injury with spinal cord damage | £85,470 to £151,070 |
Your solicitor will make sure any financial impacts or expenses as a direct result of your scaffolding accident injury are included in your compensation. This means you won't be left out of pocket and that you have the finances you need to help you recover.
They'll make your claim on a no win no fee basis. This means that if your claim doesn't succeed then you pay nothing. If it succeeds, you'll pay a fee to your solicitor from your scaffolding injuries compensation.
For a compensation estimate, visit our compensation calculator. This will give you a very rough figure for general damages after a scaffolding accident based on your answers to some simple questions. Alternatively, contact us today on for a free and confidential chat about what you've been through.
---
We deliver a personal touch for scaffolding accident injury claims
Personal injury claims can feel confusing, which is why we offer a friendly, free service staffed by legally trained advisors. You can call us for advice about your scaffolding accident and for guidance on how to make scaffolding accident claims.
During your call with us, we'll ask you about your experience, injuries and pain. Be ready to give us as many details as you have, but don't worry if you don't have exact dates, we may be able to process your claim regardless.
If we think you have a claim during your call with us, we'll let you know. At that point, we'll ask you if you're happy to speak to one of our specialist solicitor firms, who have experience working with claims just like yours. You're welcome to say no, as there's no obligation to speak to a solicitor.
Our calls are confidential, so anything you tell us will be kept safe and not passed on to anybody without your permission. If you're ready to get advice, or start your scaffolding accident claim for injury compensation, simply contact us on .
Alternatively, just enter your details into one of our forms. We'll aim to call you back within 30 minutes during regular opening hours.
---
---
Why choose National Accident Helpline?
Experienced - Serving the nation for over 26 years.
Accredited - Personal injury experts you can trust.
Trusted - Rated 'Excellent' on Trustpilot with more reviews than any other Helpline.
National - Every day, we help 100's of people across the UK who've been injured in accidents.
---