What to do if you're a cyclist in a road traffic accident
With cycling traffic on the roads having increased almost every year since 2008, the urgency of cycling safety in Britain is more pressing than ever.
News has emerged that the Government is investing £500,000 into a pilot scheme to improve driving instructors' awareness of cycling safety, in addition to launching a nationwide campaign to put a stop to 'close passing' by drivers. The initiatives should help to reduce cycling accidents on the roads and make the activity as safe as it should be.
It is an unfortunate reality that with the increase in the number of cyclists on our roads came an increase in the number of reported injuries; in 2016, for instance, 18,477 cyclists were injured as a result of a road traffic accident - 3,499 of whom were killed or suffered serious injuries.
It can be a life-changing experience to be involved in a bicycle accident, but if you know what to do if you weren't at fault, it can help you make it right by claiming any compensation to which you might be entitled.
Here are our top tips for what to do after an accident:
Collect registration details, insurance information, names, photographs and CCTV footage (via the council). You should also report the incident to the police and obtain a reference number.
Keep hold of damaged property
If your bike or helmet get damaged in the accident, don't throw them away. They can be items of evidence and can help avoid any doubt over the value of your property if it does prove to be a successful claim for compensation.
Think before accepting an early settlement offer
Speak to our advisors before accepting any early settlements on the back of your accident - you may have other options.
Seek medical attention for injuries
Medical assistance is always beneficial, even if you haven't sustained serious or life-threatening injuries. Receiving medical attention could act as evidence that counts towards your claim.
If you have a successful claim to make, a list of expenses can be submitted to be included in your final compensation amount, so be sure to keep track of additional travel costs, for example.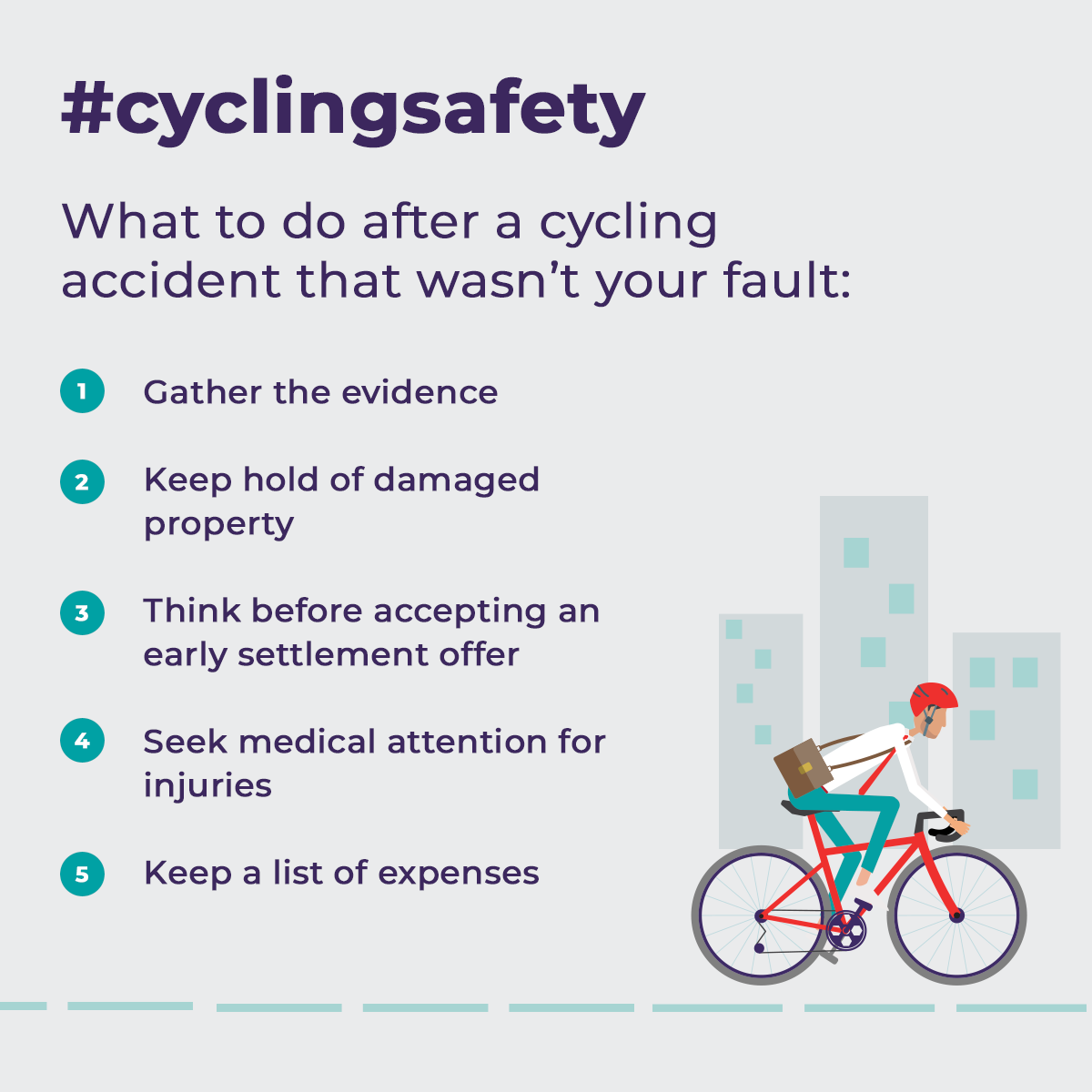 Maintaining safety on our roads is crucial to encouraging active lifestyles in Britain, so an increased awareness of cycling safety led by a national campaign can only be a positive move.
Accidents are an unfortunate part of life, but it is possible to reduce the chances of them happening and important to be prepared in case they do. Cyclists and drivers alike can invest in headcams and dashcams to provide what could be vital evidence in the event of an accident - the footage can go a long way to proving who was at fault for a collision.
If an accident does happen to you, try to remain calm and collect the evidence you need at the scene in case you have a right to make a claim.
Be sure to speak to one of our advisors before deciding how to deal with your accident - we can put you in touch with a qualified solicitor for legal advice on how to deal with the claims process.
You can call us for free to discuss your accident and your rights. All of our advice is free and you are not obliged to proceed with a no win no fee solicitor at the end of your call.