Broadcaster and nutritionist Amanda Hamilton is one of the UK's best-known personalities in health and well-being.
She has been a popular presenter and health expert on BBC and ITV for over a decade, appearing regularly on GMTV, ITV's This Morning and the BBC's Something for the Weekend.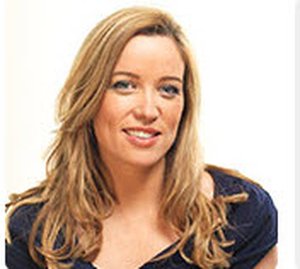 She originated and presented seven health-based TV series based on fasting that have now been shown in 22 countries around the world. A regular contributor to the national press and author of three books on nutrition and diet (Eat, Fast, Slim, Life Detox and LifeChanging Weight Loss), she is a member of the British Association of Nutritional Therapists and is currently studying for an MSc in Obesity Science at Robert Gordon University.
Give yourself time to rest following an injury
Around 70% of your daily energy is spent keeping the whirring of internal tasks such as digestion and detoxification going. If you're a busy, on the go person, and don't give your body the best conditions to rest, digest and ultimately heal, it will catch up with you sooner or later.
This makes even more sense when you consider that at any one time only about half of your cells are in the peak of development, vitality and working condition. One quarter are usually in the process of development and growth and the other quarter in the process of dying and being replaced.
If you've been the victim of an accident or injury then it makes perfect sense that now is the time to look after your body more, not less than usual.
---
Importance of a good diet
Of course, it's never about just one food or one type of exercise - improving your diet generally, getting a bit more active, quitting smoking, drinking in moderation and limiting stress are all important.
Saying that, inflammation is the body's normal response to injury, aimed at removing whatever is causing the injury and kick-starting the healing process. Too much inflammation can obviously be dangerous, as is the case in inflammatory conditions such as arthritis, atherosclerosis and even eczema. If you or someone you know has a condition that ends in "itis" then it is linked to inflammation.
High levels of body fat are also associated with increases in inflammatory markers, so if you are overweight, you could consider using the recovery period to experiment more with healthy eating and shift a few unwanted pounds in the process.
More generally, eating for recovery should include a wide range of healthy food. The different food groups all provide different nutrients, a balance of which is required for the body to function optimally. This not only includes the carbohydrate, protein, fat and fibre but the vitamins, minerals and phytochemicals that are obtained in balanced amounts when you eat a varied diet.
---
The key food groups
Fruit & vegetables:
Eating a variety of colours of fruits and vegetables is the best way to ensure that you get plenty of vitamins and other antioxidants. Fruit and vegetables are a good source of fibre, vitamin C, folate and carotenes. Aim for at least five portions a day.
Starchy carbohydrates:
A serving of whole grain bread, pasta, rice, couscous, oats or potatoes at most mealtimes helps to provide your brain and red blood cells with the fuel they need to maintain your energy levels. If you are forced to be sedentary with your injury, be careful you don't comfort eat too many carbohydrates. Moreish snacks such as crisps should be avoided!
Milk and dairy products:
These are a great source of protein, calcium and vitamin B12. Two or three servings of these each day are recommended, although it is possible to replace them with alternatives if you can't eat dairy for health or other reasons.
Meat, fish or vegetarian alternatives:
These are important as a source of protein, which helps to repair your body and maintain your muscles, as well as helping you to feel fuller for longer. These foods also provide a wide range of other minerals. Dark meat and lentils are good sources of iron, for example. Again, two to three servings per day are recommended.
Foods high in fat or sugar:
For most of us, it simply isn't realistic to avoid them completely. If you are very active (exercising for more than 90 minutes at a time), sugar is a useful quick source of energy, but otherwise sugar has no nutritional benefits. Sugar is also thought to lower immunity so for this fact alone it's worth reducing intake. When it comes to fat, there are healthy and less healthy choices. Some of the best sources are oily fish, nuts, seeds, avocado and olive or rapeseed oil.
Specialist foods:
Some of the superfoods might be worth a look too. The nitrates found in beetroot, and other vegetables including raw spinach, rocket and celery, are converted to nitric oxide inside the body. An increase in nitric oxide is thought to improve blood flow and cell signalling, which means that more oxygen and fuel can be delivered to the working muscles, and more waste taken away. Nitrates found in vegetables shouldn't be confused with nitrites found in cured meat… when used as a preservative, nitrates can form harmful chemicals linked with increased cancer risk. So, best to eat nitrates from vegetables and avoid the hot dogs!
Amanda Hamilton is a qualified and practising nutritionist and a broadcaster, author and consultant in all matters health
---
Breakfast Recipes
Many people find that feeling stressed or unwell leads to less than perfect food choices - especially around quick-fix fatty or sugary foods.
Start the day the healthy way with slow-release carbohydrates in the form of oats to give you a fighting chance against unhealthy snacking.
We've upgraded simple porridge with these delicious ideas - not only are added fruits antioxidant rich, the addition of spices such as cinnamon and nutmeg help to keep blood sugar levels stable, which, in turn can help reduce cravings. Nuts and dried food are also healthy additions - just remember not to overdo the portion size.
Apple and Cinnamon Porridge
Serves: 1
Preparation Time: 5 Mins
Cooks in: 10 Mins
Level: Easy
Ingredients
100ml cow's skimmed/semi skimmed milk
3 quarters of a medium apple
50g porridge oats
1/2 tsp ground cinnamon
25g raisins
250ml water
Method
Place the porridge oats with the milk and the water into a saucepan.
Bring to the boil, stirring frequently and then reduce the heat to medium and simmer for 5 minutes.
Grate the apple with the skin intact and add to the porridge, mixing it in well.
Stir in the raisins and the cinnamon and then remove from the heat and serve.
Berry Bircher Museli
Serves: 1
Preparation Time: 5 Mins
Cooks in: 10 Mins
Level: Easy
Ingredients
30ml low fat natural yoghurt
3 quarters of a medium apple
50g blueberries
10g sliced almonds
40g porridge oats
1.5 tsp honey
Juice of half a lemon
30g dried cranberries or sultanas
80ml water
20g desiccated coconut
Method
Place the oats and cranberries (or sultanas) in a bowl and pour over the lemon juice and water.
Leave in the fridge for 2 hours or overnight.
The following morning, peel, core and grate or slice the apple over the oats.
Into this mix, stir the coconut, yogurt and toasted almonds. (The muesli will keep in the fridge for a few days, but don't stir in the apple unless you plan to eat it straight away.)
Transfer the muesli into bowls and top with apple slices and blueberries; drizzle with honey to taste.
Florida Cocktail with Luxury Nut Museli
Serves: 1
Preparation Time: 5 Mins
Cooks in: 10 Mins
Level: Easy
Ingredients
70ml low fat natural yoghurt
1 medium orange
14g sliced almonds
28g porridge oats
12g walnuts
7g flaxseed
1 ruby grapefruit
14g bran
Method
Preheat the oven to 160C/gas mark 3.
Place the oats, nuts, flaxseed and bran on a baking tray and crisp in the oven for 10 minutes, shaking and turning after 5 minutes.
Remove from oven and allow to cool for roughly 10 minutes.
In a bowl mix together the cut-up grapefruit and orange.
Crumble the crispy muesli into a bowl, top with the fruit cocktail and pour over the yoghurt.
---
Recipes for lunches
Eating a small meal at lunchtime can lighten the load on your digestion which can often feel upset during tumultuous times. Here are four perfect examples of light dishes that take only minutes to prepare but really deliver on taste and nutrition.
Vitamin Packed Roasted Butternut Squash with Goat's Cheese
Serves: 1
Preparation Time: 10 Mins
Cooks in: 45 Mins
Level: Easy

Ingredients
50g goat's cheese
Half a medium courgette
Half a medium red pepper
Half a medium butternut squash
Half a clove of garlic
7 cherry tomatoes
1 handful salad leaves
Half a red onion
Half a tsp chilli flakes
Method
Heat your oven to 180C/gas mark 6.
Peel and dice the butternut squash.
Mix together the chopped garlic, a splash of olive oil and chilli flakes. Mix this through the chopped squash in a roasting tin and season.
Bake for about 20 minutes, then add the chopped courgette, chopped pepper and diced red onion. Bake for another 20 minutes.
Add the cherry tomatoes and cook for another 10 minutes.
Finally, arrange the roasted vegetables into the number of portions that you are cooking and top each pile with a slice of goat's cheese.
Return this to the oven and bake for another 5 minutes until the goat's cheese has melted.
Use a slice to lift out the roasted vegetables and goat's cheese and serve with some salad leaves.
Smoked Salmon Omelette
Serves: 1
Preparation Time: 5 Mins
Cooks in: 10 Mins
Level: Easy
Ingredients
50g smoked salmon
2 medium eggs
Half a handful fresh spinach
10 chives
Method
Whisk the eggs, chives and chopped spinach together.
Once mixed, add a splash of oil and the mixture to a preheated frying pan. Cook until bubbling on top and then flip.
Once cooked, serve onto a plate and place the salmon over the top.

Mushrooms on Toast
Serves: 1
Preparation Time: 5 Mins
Cooks in: 5 Mins
Level: Easy
Ingredients
18 button mushrooms
Half a tbsp Worcester sauce - anchovy free
1 slice rye bread
Method
Heat a splash of olive oil in a non-stick frying pan.
Add the button mushrooms and sauté over a high heat for 3-4 mins or until the mushrooms are golden and soft.
Season to taste with salt and freshly ground black pepper and serve on the wholemeal bread toasted.
For a touch more taste, add a dash of Worcestershire or Tabasco sauce.
---
Dinnertime recipes
Batch cooking has got to be one of the best habits to adopt when it comes to making healthy eating realistic, no matter what your circumstances.
Freezing extra portions of meals such as stews, chilli and curries can cut unnecessary cost from the food bill and save a lot of time and hassle. Freshly cooked food can be safely kept in the fridge in a covered container for up to 3 days, and in the freezer for up to 3 months.
Healthy Cottage Pie
Serves: 2
Preparation Time: 15 Mins
Cooks in: 60 Mins
Level: Easy
Ingredients
240g lean beef mince
2 medium carrots
240g potatoes
Half a medium onion
140g mushrooms
Half a medium broccoli head
2 tbsp tomato puree
2 tbsp Worcester sauce - anchovy free
200g chopped tinned tomatoes
Method
In a pan of boiling water, cook the potatoes until soft, drain and mash them, and then set them to one side.
Heat a splash of oil in a large deep frying pan over medium heat and add the diced onion. Cook for 5 minutes or until soft.
Add in the beef mince and cook, stirring constantly, for 10 minutes, or until browned.
Next, add the sliced mushrooms and cook for 5 minutes. Stir in tomato puree, tinned tomatoes and Worcestershire sauce and cook, stirring occasionally for 20 minutes or until the liquid has evaporated.
Taste and season with salt and pepper.
Preheat oven to 220°C or Gas Mark 7. Spoon the mince mixture into an ovenproof dish and top it evenly with mashed potato.
Bake for 20 minutes or until the potato begins to brown. Serve with the remaining vegetables either steamed or boiled.
What's in the Fridge Surprise Curry
Serves: 1
Preparation Time: 5 Mins
Cooks in: 30 Mins
Level: Easy
Ingredients
Half a medium onion
Half a vegetable stock cube - low salt
Juice of half a lemon
Three quarters tbsp Indian curry paste
350g leftover vegetables or pulses
Method
Firstly, cook the brown rice as instructed on the packet.
15 minutes before your rice is ready, add your sliced onion to a pre-heated saucepan with a splash of oil and fry for 30 seconds.
Turn down the heat and add in the curry paste. Fry for 2-3 minutes to release the flavours.
Add in your leftover vegetables and/or pulses, coconut milk, stock cube and water, stir well and bring to the boil. Simmer for 10 minutes.
Strain your rice and put it on a plate.
Adjust the amount of curry paste to your liking and stir in your lemon juice just before serving your curry on the bed of rice.
Lentil and Spinach Curry
Serves: 1
Preparation Time: 5 Mins
Cooks in: 30 Mins
Level: Easy

Ingredients
4 sprigs fresh coriander
120g red lentils - dry/uncooked
Half a vegetable stock cube - low salt
120g chopped tinned tomatoes
70ml water
70g frozen spinach
50g brown basmati rice
Quarter of a red onion
Three quarters tbsp Indian curry paste

Method
Place the brown rice in a pan of water and cook as the packet instructs you to.
Heat a splash of oil in a wok or a deep-sided frying pan.
Fry the onion until soft, add the garlic and fry for 1 minute. Stir in the curry paste and gently fry for 1 minute.
Stir in the tomatoes, stock cube, water and rinsed lentils, bring to the boil and reduce to a simmer for 10 minutes.
Stir in the defrosted spinach and gently heat through.
Remove from the heat, stir in coriander.
Serve on a bed of the brown basmati rice.
Baked Fish with Tomatoes, Herbs and Vegetables
Serves: 1
Preparation Time: 5 Mins
Cooks in: 30 Mins
Level: Easy

Ingredients
140g cod, hake or haddock
Three quarters of a medium courgette
Half a medium pepper
Three quarters of a medium carrot
1 medium tomato
2 sprigs fresh parsley
3 sprigs lemon thyme
Method
Preheat your oven to 180C/Gas mark 4.
In a large piece of oiled tin foil first place the sliced courgette, sliced peppers and sliced carrots.
Sprinkle over the de-stalked and roughly chopped fresh herbs and then place your piece of fish on top.
Then place a few slices of tomato on top of the fish and drizzle with a little olive oil.
Season it with a little pepper and sea salt.
Wrap the tin foil around the fish and place into your oven for 25-30 mins until the fish and vegetables are fully cooked.
Plate and serve.
---
Eat For Recovery Infographic
---