UK cyclists do not feel safe cycling on our roads, according to new research from National Accident Helpline, the UK's most experienced claims company. This comes at a time where cycling in the UK is on a massive high, boosted by our 2012 Olympic success and the national enthusiasm from hosting the Tour de France this year.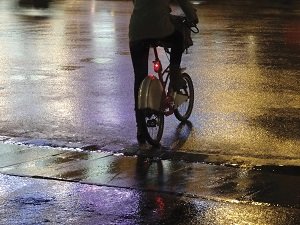 The research revealed that two fifths (42%) of cyclists do not feel safe cycling in designated cycle lanes and over half (53%) feel nervous when cycling in the dark.
The findings coincide with the end of British Summer Time this weekend, with days getting shorter and evenings darker as the clocks go back. According to Transport for London, over a third of cyclists are injured in the early hours of the evening. In Greater London, up to 34% of cyclists were injured around dusk between 4pm and 8pm.
Despite worries about cycle safety, over a fifth (22%) of respondents said they listen to music when cycling, adding an additional distraction to their journey.
With the research revealing how nervous cyclists feel when cycling in the dark and the increased vulnerability that winter brings, here are our recommendations to make sure you stay safe:
Light up: make sure your bike has good lights, fitted where they can be seen. It is illegal to cycle in the dark without a white front light, a red back light and a red reflector at the back. This is, however, the minimum requirement for lighting; it would be wise to invest in more. It's also a good idea to carry spare batteries and/or back-up lights with you in case they run out when you're cycling.
Be seen: wear reflective clothing. It is incredibly important to stand out so that you can be seen. As well as specialist bike clothing with reflective elements, wear neon and white items, such as a high-vis vest. If you are cycling with a backpack, try using a fluorescent one. Stick to well-lit routes, if you can.
Avoid hazards: it is obviously much harder to spot hazards in the dark. As well as other approaching vehicles, look out for uneven surfaces and potholes, animals and pedestrians in dark clothing. Watch out for slippery leaves in autumn, and black ice on the roads as temperatures drop. Take extra caution if you are trying a new route. Avoid wearing headphones as they will act as an extra hazardous distraction.
Russell Atkinson, Chief Executive Officer of National Accident Helpline and a keen cyclist, said:
More and more Britons are following Bradley Wiggins and getting inspired by the Tour de France to hop on a bike. Unfortunately this rise has been accompanied by a sense of nervousness when it comes to road cycling.




As the nights draw in and winter approaches, this is the perfect time to tackle that anxiety by ensuring that you are prepared for cycling in the dark. As long as you take the necessary steps to ensure you are well prepared and keep your wits about you, there is no reason why the winter should be a hindrance.