We're pleased to announce that the finalists have been chosen in our annual nationwide competition, Future Legal Mind.
The Future Legal Mind Award is run each year to give a boost to the fledgling careers of the nation's most promising legal talent.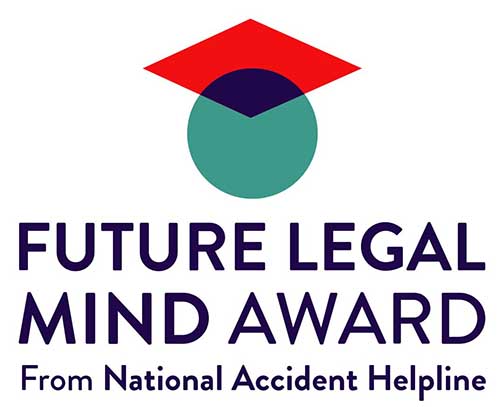 This year, we opened the competition up to people in the early days of their legal careers, as well as those currently studying for a legal qualification.
Law students and trainees in the first two years of their legal career were invited to submit an essay about their legal ambitions and how having a legally-trained mind would benefit them, their local community and society.
Their responses were whittled down to a shortlist of finalists, who were all asked to submit a home-made video to support their written entry. Watch the videos made by each finalist here.
The essays and videos will be reviewed by judges as they choose the competition winner, which will be announced later this month.
Tom Fitzgerald, Managing Director of National Accident Helpline, said: "We received some excellent entries into this year's Future Legal Mind competition from students and trainees who were clearly very passionate about pursuing a career in Law.
"Our shortlist is a mix of Law students and trainees who all submitted very compelling essays, so choosing our Future Legal Mind 2019 will be a tough task."
The finalists for Future Legal Mind 2019 are:
Amy Leech, a University of Northampton Law graduate and Trainee Solicitor at Shoosmiths LLP, Milton Keynes
Charley-Anne Gordon, a Law student at the University of Buckingham
Chloe Convery, a Law student at the University of Chester
Deborah Longe, a Law student at the University of Durham
Eve McKaig, a Law graduate from the University of Dundee
Ezeokoli Chidnma, a Law student at the University of Hull
Joe Donaghey, a University of Law graduate working as a Paralegal in London
Joe Lavery, a Paralegal at housing charity The Abbeyfield Society in St Albans, Hertfordshire
Katarzyna Wach, who is studying via distance learning with CILEx Law School
The winner of Future Legal Mind will receive a prize package including valuable mentoring and networking experience.
The winner will meet with a Parliamentary Under-Secretary of State at the Ministry of Justice and will receive mentoring advice from experienced lawyers within our team.
They will also star in a showcase film highlighting their skills and receive a prize fund of £2,000.