10 Jun, 2021/ by National Accident Helpline /Campaigns
How to safely use e-scooters
Our recent research into the nation's changing mobility habits highlighted how many people have taken up cycling and walking as alternative, more eco-friendly methods of transport in the last year. While it's great to be 'green', we became concerned about the rising number of vulnerable road users and have been encouraging people to take extra care to reduce their likelihood of being involved in an accident.
Another trend that we believe is putting even more vulnerable road users at risk is the increase in e-scooters across the country, both through the government's rental scheme trials and increasing private use sales.
We have seen several worrying local news stories reporting accidents between pedestrians and e-scooter riders. So, we decided to find out more about how widespread this is, and what measures are in place to help people to stay safe.
We have looked into the current usage of e-scooters in England to highlight the potential road traffic injury consequences that could result from an increase in the number of e-scooters on the roads, and how this could impact both riders and other vulnerable road users.
The use of private e-scooters is still illegal on UK roads, pavements, cycle lanes and pedestrian areas.
The only way to currently, legally use an e-scooter on public roads - and this excludes motorways and pavements - is to rent one as part of various government trials across the country, and for this you are required to hold a valid full driving licence with category Q entitlement.
Even those who are following the laws, could still be landed with additional fines if the police deem the rider's behaviour to be dangerous to themselves and/or other road users. According to the Met Police, dangerous behaviour includes but is not limited to:
using a mobile phone: £100 and six penalty points
riding through red lights: Fixed Penalty Notice, £100 fine and possible penalty points
drink driving offences: As with driving cars; court-imposed fines, driving ban and possible imprisonment
The Department for Transport has provided a detailed description for how it classifies e-scooters. This includes but is not limited to 'an electric motor vehicle with a maximum continuous power rating of 500w' and 'a vehicle that has a maximum speed not exceeding 15.5 mph'.
In order to support a 'green' restart of local travel and help mitigate reduced public transport capacity, the Department for Transport is fast tracking and expanding trials of rental e-scooters across the country. The trials were launched on 4 July 2020, with the intention to run trials for 12 months from the date e-scooters are made available to the public in each area.
A full or provisional driving licence is required to use an e-scooter, yet while cycle helmets are recommended, they are not a legal requirement for use.
There are currently 49 active e-scooter trials running across the country. However, they have not been without safety concerns for both riders and pedestrians. Trials were initially expected to continue until Autumn 2021, but it was recently announced that these will now run until 31 March 2022.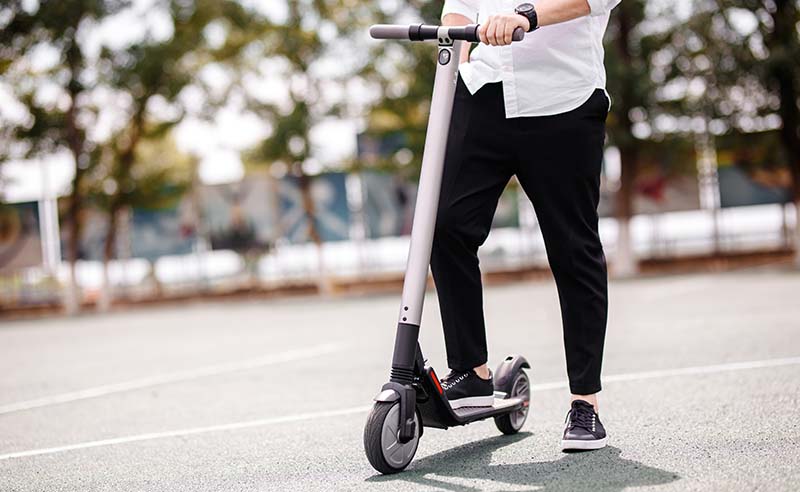 Some police forces have already been forced to issue warnings to riders about 'the danger these machines pose to both the rider and pedestrians'.
While many e-scooter trails provide safety helmets at the point of hire, as there is no legal requirement to wear them, the public are currently able to use e-scooters in the trial areas with zero protective clothing.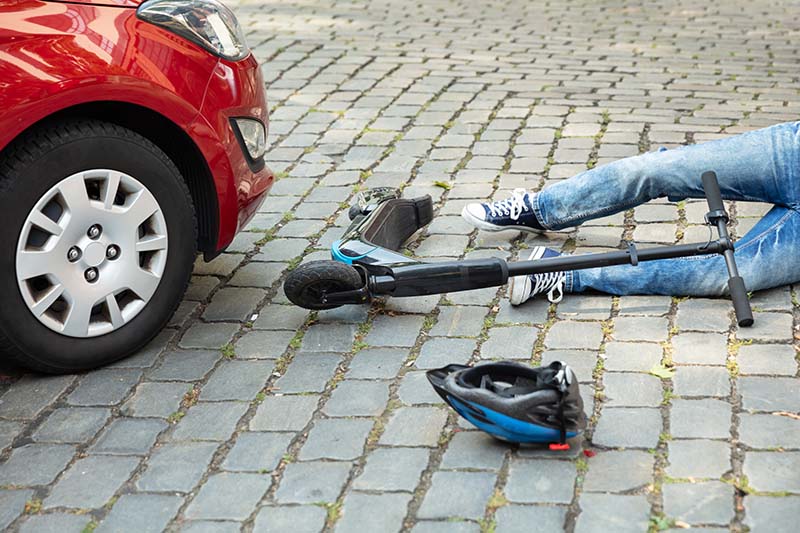 To highlight the potential injury and legal dangers that riders need to be aware of when using e-scooters, we have designed the below brainteaser to show a typical city centre situation when hiring an e-scooter. Can you spot the eight areas of concern in under 45 seconds?
You can scroll to the bottom of this page to find the answers and see how safely you would operate an e-scooter.
How to Use E-Scooters Safely
While it is still not a legal requirement to use safety equipment when riding a rented e-scooter, the injuries that have already occurred in the UK, means that riders must utilise adequate protective clothing when using e-scooters.
The lack of a legal requirement to wear protective clothing when operating an e-scooter will leave the public unprepared for the significant risk of injury to both themselves and others, which could in turn lead riders to use the e-scooters in a reckless manner.
In order to best protect both yourself and other vulnerable road users when using an e-scooter, ensure that you always:
wear protective clothing such as a safety helmet, elbow pads and knee pads.
wear light colours or fluorescent clothing so other road users can see you.
be aware of your surroundings and do not move at speed when passing other pedestrians.
never ride an e-scooter on the pavement.
The additional safety advice given by the government to e-scooter renters at this time includes but is not limited to: 'e-scooters should only be used within the local area hosting the trial' and 'e-scooters should only be used by one person at a time'.
If you have experienced an injury that wasn't your fault as a result of using an e-scooter or have been involved in an accident with another road user who was using an e-scooter, then we can offer free and independent help in choosing the next course of action.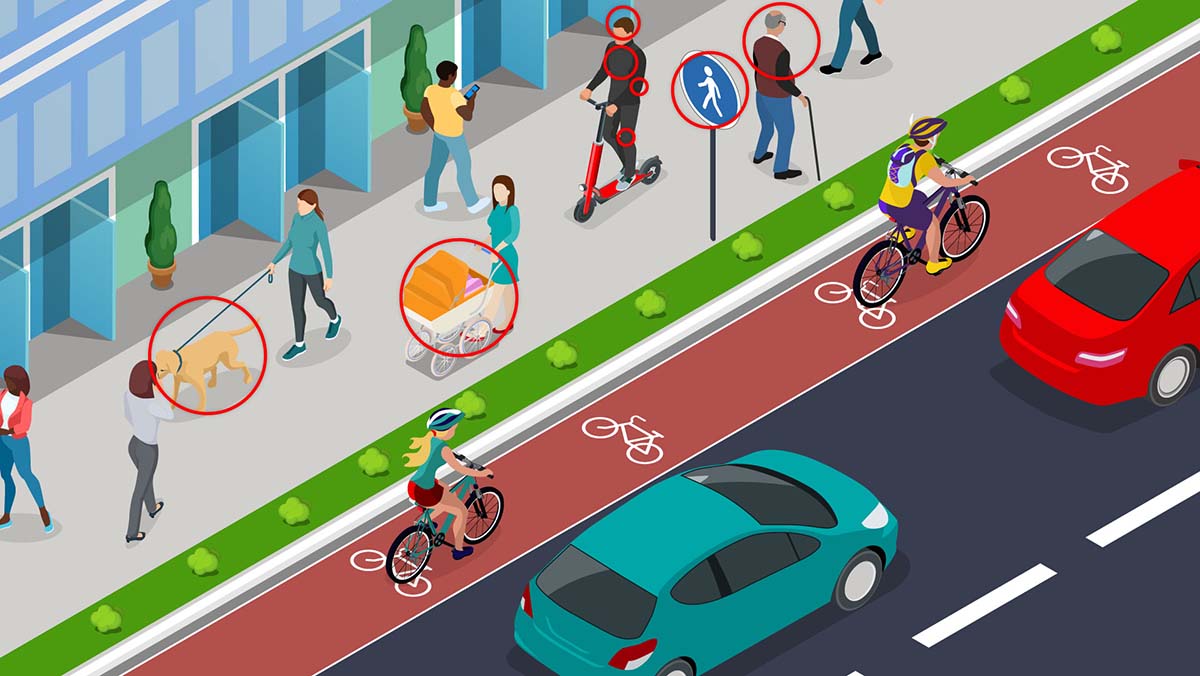 The rider was using the e-scooter on the pavement
The rider was wearing dark clothing
The rider was not wearing a safety helmet
The rider was not wearing elbow pads
The rider was not wearing knee pads
The rider was too close to a mother and child
The rider was too close to an elderly pedestrian
The rider was too close to a pedestrian walking a dog and could have been tripped by the lead