No two accidents are the same. Whatever the circumstances - whether you are injured while doing your job or in an accident on the road, for example - any accident which wasn't your fault can leave you injured and in pain.
But while the circumstances of every accident are different and unique, we wanted to see if there were any similarities in the accidents suffered by the British public.
As the UK's leading provider of personal injury advice, services and support, we help hundreds of people every day. This means we have one of the largest data sets on accidental injury, so we analysed that data to find out and highlight when the public may be at the greatest risk of suffering an injury.
We analysed our data from claims enquiries - accidents reported to us which were put forward to a solicitor - which we have helped people with over the past seven years, to highlight when people across the country are most likely to suffer an accident or injury.
What date is the most Accident-Prone Day of the Year?
By analysing over 350,000 claims enquiries that we have helped people with since 2013, the data singles out one day of the year when the public should be extra attentive to their surroundings to try and avoid an accident - 1st August.
Across all types of accidents, more than 1,000 people reported to us that they had been accidentally injured on 1st August over the past seven years, with their cases going forward to one of our panel of solicitors.
This 'most accident-prone day of the year' shows a massive 169% increase of injuries compared to the day highlighted as the 'safest' of the year - Christmas Day. Our data shows we have helped people with 473 claims enquiries relating to no-fault accidents recorded on 25th December since 2013.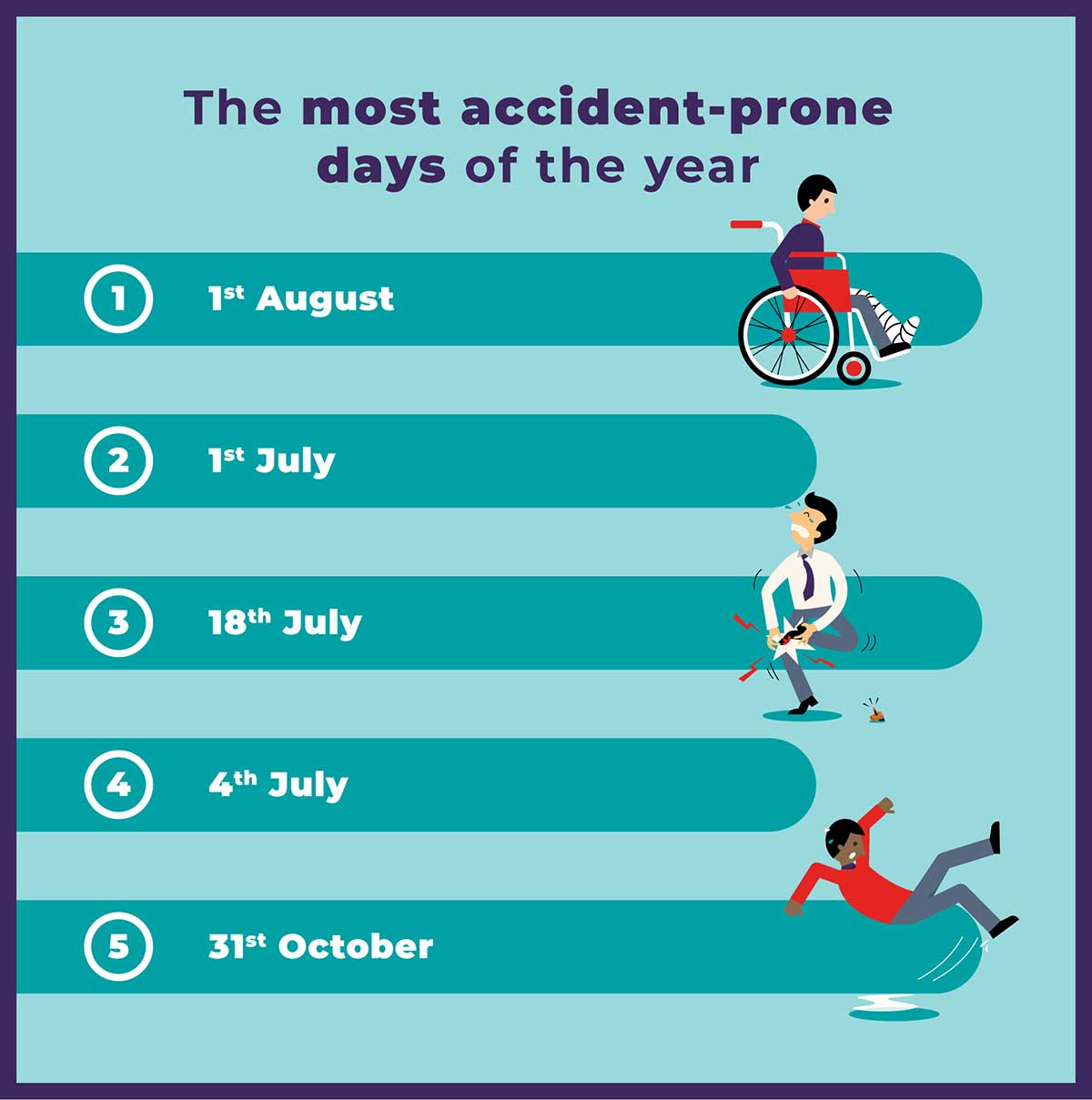 Those who make it through July without suffering an accident or injury should count themselves lucky, with our research indicating that three of the top five most accident-prone days of the year are in the summer month.
Our data analysis found that 1st July is the second most accident-prone day of the year for claims enquires, with 1,256 accidents reported, followed by 18th July with 1,202 accidents and 4th July with 1,173. The top five is rounded off by 31st October, with 1,172 accidents leading to claims enquiries occurring on Halloween.
What is the most Accident-Prone Day of the Week?
Having found out when the most accident-prone days of the year are, we did some further analysis of our data to look at which day of the week most accidents were happening on.
Our research found that Friday is seemingly the most accident-prone day, with 17% of all claims enquiries we have handled since 2013 relating to accidents which happened on a Friday.
Our data indicates that Brits are more than twice as likely (58%) to be injured on a Friday than on a Sunday, which was shown to be the safest day of the week, with only 11% of injuries occurring on the 'day of rest'.
Where have most people reported having an accident?
Those in Croydon may also want to take extra care when it comes to avoiding accidents; our data highlighted that residents in the London borough recorded the highest number of claims enquires in the country, followed by Leicester (west), Coventry and East London's E17 postcode (Walthamstow).
Residents in Croydon's CR0 postcode recorded the highest number of claims enquires every year since 2013 - a total of 1,765, which was 68% higher than the number of claims enquiries reported by people living in in Leicester (West) with 1,050.
Wherever you live and whatever day or date it is, unfortunately there's always the chance that an accident can happen. If you're involved in an accident - whether it happens on the 'most accident-prone day of the year' or not - remember that if it wasn't your fault, we're here to help you make it right.