A blog article by National Accident Helpline Legal Director Jonathan White
The state of the UK's roads is a major bugbear for the majority of drivers, especially when it comes to the ever-growing issue of potholes. According to official council data obtained by breakdown cover provider Britannia Rescue in 2013, there are around 295 square miles (764 square km) of potholes on Britain's roads.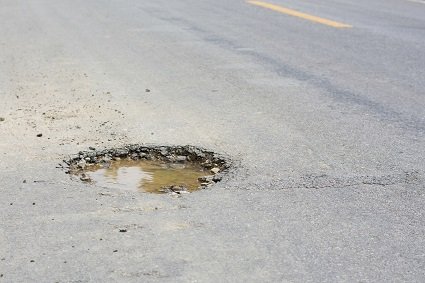 Damage to a car or bicycle from hitting a pothole is irritating and can be costly to repair. Far more worrying, however, is the increased risk of personal injury that cyclists, drivers and pedestrians who are involved in pothole-related accidents can suffer.

Potholes present a particularly serious injury risk to cyclists. Bicycle wheels are far more likely to get stuck in the type of smaller holes or cracks that a car or larger vehicle would simply roll over.
What adds insult to injury is that such consequences are the result of something which is out of road users' control. It is not a cyclist or driver's fault that potholes exist on our roads, and it is absolutely not their fault that an unavoidable pothole damages their car or causes injury.
The sheer number, inconvenience and scale of damage has meant that potholes are an issue that many feel strongly about. This week's National Pothole Day, organised by Street Repairs, aims to highlight the seriousness of the problem by encouraging the public to report the potholes they see.
For many, however, reporting the issue does not go far enough. For those who have been involved in an incident involving a pothole, more immediate action needs to be taken so they can receive the compensation they deserve. This, however, is not always straightforward.
As local councils are responsible for maintaining about 90% of UK roads, they are legally obliged to maintain roads to a safe standard. This includes fixing potholes. If you are able to prove that the local authority knew about the pothole but hasn't repaired it, or hasn't followed road maintenance guidelines, you may be able to claim.
According to consumer group Which?, councils in England and Wales paid out £22.8m in compensation for pothole damage in 2012 as the backlog of road repairs within local authorities continued to rise.
However, data obtained by the Bucks Advertiser found that only five of the claims relating to potholes and personal injury received by Buckinghamshire County Council since 2009 have been successful, resulting in settlements totalling £117,000.
If a council can show that it had a reasonable system of inspection and maintenance in place, it can defend a pothole claim. This means that often, legitimate victims do not receive the financial help they deserve.
In an encouraging move, the Department for Transport announced in December 2014 that the nearly £6bn allocated to the problem in June 2013 will be enough to fix around 18 million potholes across the country. Just over £4.7bn of the cash will now be shared between 115 English councils. Whilst this is a big step in the right direction, many commentators have suggested that this still isn't enough. The Local Government Association have, for example, warned there is "a very long way to go".
Fundamentally, whilst it is encouraging for genuine accident victims that there is a route to receive compensation, it is simply not good enough that so many people are put into this position in the first place. Despite greater investment in maintaining and fixing road surfaces and potholes, road maintenance in the UK is still severely under-funded, with only £63 spent per driver per year on maintaining and fixing roads.
At National Accident Helpline, we strongly believe that both central government and local councils still need to do more to tackle this problem. More funding is needed to ensure that individuals aren't subjected to an avoidable hazard.